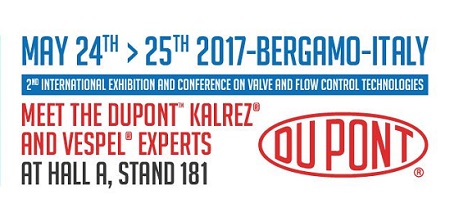 DuPont is proud to take part at the upcoming Industrial Valve Summit in Bergamo, Italy on 24-25 May. The Industrial Valve Summit brings together stakeholders involved in valve technologies and flow control solutions to discuss technical challenges and opportunities, introduce pioneering technology, and share experiences.
At this year's event DuPont will present a paper on the results of their research into low and high temperature elastomeric sealing systems for valves in harsh environments such as oil and gas production.
The paper provides results on their testing of a solution to one of the key challenges being faced by valve manufacturers specifying perfluoroelastomer seals: the need to meet both low temperature and high temperature requirements in a single sealing solution. Such seals often also need Rapid Gas Decompression (RGD) certifications such as Norsok M710 rev 3 / ISO 23936-2 / Total GS EP PVV 142 and excellent chemical resistance. Back up rings are also typically required to prevent extrusion of high durometer O-rings under high temperature and high pressure conditions. Meeting all these requirements at reasonable cost is not an easy task.
This DuPont paper details the results of their advanced testing of a solution to this challenge through a perfluoroelastomer seal with sufficient extrusion resistance at high temperature to allow the removal of back up rings. This is shown to significantly enhance low temperature sealing performance as well as reducing total sealing system cost by simplifying assembly, reducing part count, and groove length requirements.
Testing on a "state of the art" high pressure high temperature test rig at the DuPont European Technical Centre is part of the work presented in this paper. This test rig is part of DuPont's continued investment in cutting edge testing capabilities and complements their existing Technical Center of Excellence for Fluids and Material Handling.
A relative comparison of various types of perfluoroelastomers has also been presented. Significant performance differences were observed between various types of perfluoroelastomers. The preliminary results highlight that selecting the appropriate Kalrez® perfluoroelastomer O-ring shows excellent extrusion resistance without backup rings at high temperatures and that at low temperature the performance of the perfluoroelastomer is improved by removing back-up rings. The Kalrez® perfluoroelastomer seal without back-up rings can be a suitable solution to meet both low and high temperature requirements of valve manufacturers specifying perfluoroelastomer seals.
"We are very excited to present the results of our research at the Industrial Valve Summit. We believe that the results of the preliminary testing are very interesting for the oil and gas industry and could lead to more efficient solutions and cost savings for our customers," said Dr. Geoff Lewis, EMEA Application Development Manager at DuPont.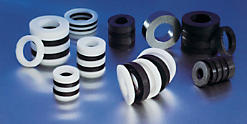 DuPont will present the paper at the Industrial Valve Summit on Thursday 25 May at Session 9 on Advanced Sealing Solutions.
DuPont is also pleased to be exhibiting at the event, showcasing our DuPont™ Vespel® polyimide and fluoropolymer composite parts which have both high temperature and cryogenic capabilities (particularly LNG) for high pressure valve applications such as ball valve seats and valve stem packing, and allow for easier sealing, operating torque reduction (smaller size actuator) and ease of design for a wide range of uses.
DuPont™ Kalrez® perfluoroelastomer (FFKM) parts are resistant to more than 1800 chemicals and solvents, including sour multi-phase fluids. They retain high levels of elasticity and recovery, even after long-term exposure to harsh environments at elevated temperatures, while offering the high temperature stability of PTFE (327°C). The long-term, proven performance of Kalrez® parts can mean less frequent seal changes, repairs and inspections, increasing process and equipment uptime for greater productivity and yield.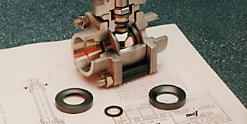 DuPont™ Vespel® Polyimide (PI) parts and shapes are manufactured according to the needs of each customer. Properties of Vespel® help overcome severe sealing, wear and friction challenges, can endure extremes of temperature (both cryogenic and high), and stand up to some of the world's harshest operating environments.  In addition to polyimides offerings, the DuPont™ Vespel® CR series are a range of composite materials designed to perform in hostile chemical environments associated to the oil and gas industry, particularly high-pressure pumps and valves used in hydrocarbon processing and refining.
DuPont Performance Materials (DPM) is a leading innovator of thermoplastics, elastomers, renewably-sourced polymers, high-performance parts and shapes, as well as resins that act as adhesives, sealants, and modifiers. DPM supports a globally linked network of regional application development experts who work with customers throughout the value chain to develop innovative solutions in automotive, packaging, construction, consumer goods, electrical/electronics and other industries.  For additional information about DuPont Performance Materials, visit plastics.dupont.com
For additional information about DuPont™ Kalrez® and Vespel® for Oil & Gas valve applications please visit here.
Fonte: DuPont
© Riproduzione riservata