DRASTIC CHANGES OF THE PHAMACY AND MEDICAL EQUIPMENT  Vietnam Medi Pharm Expo 2016
Pursuant to the permissions of Vietnam Ministry of Health, VIETNAM MEDI PHARM EXPO will take place on 11th – 13th August 2016 in Saigon Exhibition and Conferences Center, HoChiMinh City – 799 Nguyen Van Linh Str., Tan Phu Ward., 7 Dist., Ho Chi Minh City. 
The annual and well-known event is taken place twice a year in HoChiMinh City in August and Hanoi City in December, respectively. Vietnam Medi Pharm Expo has been organized for fifteen years in promoting trade activities of the pharmacy and medical equipment, strengthening local and foreign business to business operations. The exhibition is a platform for the world advanced medical technologies and equipment companies to access local private and pubic hospitals and local pharmacy companies which Vietnam has advantages to exchange.
Mr. Hứa Phú Doãn – Vice President cum General Secretary of HoChiMinh City Medical Equipment Association says: "Vietnam has been an emerging attractive destination for foreign investors, particularly the pharmacy and medical equipment companies. Estimates tell about USD800 million revenues of the sector in Vietnam every year, are expected to reach USD1.2 billion in 2016 and USD1.8 billion in 2018. The average growth would be 18-20% in the 2016-2020 period".
Professor, Ph.D. Phạm Lê Tuấn – Head of Finance Department of Vietnam Ministry of Health said about 90% medical equipment available in local hospitals came from foreign countries such as Japan, Germany, America, China and Singapore, accounting for more than 50% of total import values.
Huge demands of medical equipment are on the rise, particularly the picture screening, operations, emergency, testing, especially hi-tech equipment for hospitals in big cities including HoChiMinh, Hue, Da Nang, Can Tho. HoChiMinh City expects to spend USD900 million for upgrading its hospitals, alone.
This year, 280 businesses with 350 displays participate in Vietnam Medi Pharm Expo, including giant corporations, world leading companies from countries and territories such as America, France, Germany, Italy, Japan, Pakistan, Ukraine, Belarus, Egypt, India, Hungary, Kazakhstan, Iran, Singapore, Korea, Taiwan, Thailand, China. The highlight of the exhibition will be the display areas of Kazakhstan, Japan, Korea, Malaysia, Iran, China, Taiwan, India, Pakistan and Vietnam.
Kazakhstan – the first time experience to Vietnam Medipharm Expo, strongly supported by Kazakhstan Ministry of Investment and Development – introduces pharmaceutical products, blood vacuum tubes, and disposable products with aim to get into Vietnamese market and learn experiences in the fertility treatment in collaborations with Cho Ray Hospital in HoChiMinh city.
Also, Iran will be the first comer with pharmaceutical products. Since the state visit paid by former Vietnamese President Truong Tan Sang to Iran in March, 2016 the two countries agreed to promote bilateral trade turnover to USD2 billion in five years to come. Iran is stepping into local market of Vietnam.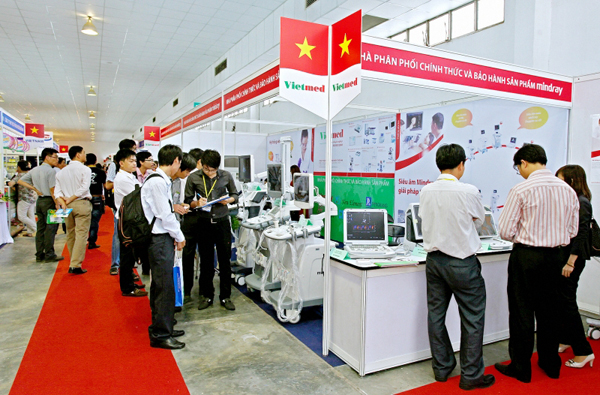 Korea has been a trusted partner in technological transfer and provision of biological products, dentist, beauty and rehabilitations to local hospitals and trading partners. Korea will bring more than thirty companies among which many of them have been regular participants in our exhibitions such as Skysoftgel, SG Healthcare, InBody, Dmetec, Personal Medical, Hwail, Bc World who are currently having partnerships with local agencies with aims to access to companies, hospitals, medical clinics and beauty saloons located in HoChiMinh City and neighboring provinces.
Local corporations, manufacturers, trading companies, importers are long-time indispensable participants at Vietnam Medi Pharm Expo, up 200 ones compared to those in the last year.
Mr. Qua That Chuan – General Director of Nguyen Quoc Medical Corp was pleased with the exhibition which his corporation joined last year: "We are a loyal participant of Vietnam Medi Pharm Expo for years in both two cities of Vietnam that offer us chances to broaden our brands and meet with customers, hospitals in HoChiMinh City and provinces. What I see is year-on-year expansion on large scale of the exhibition and more customers come. As result, our corporation have partnerships with FV Hospital, Vũ Anh hospital, Becamex hospital, Vinmec hospital, City International Hospital,…".

Conferences on "Local Medical Pharmacy Market and Polices" at the exhibition, organized by HoChiMinh City Medical Equipment Association under permission of the Pharmacy Department (Ministry of Health) and the fact-finding tour to Cho Ray Hospital will be an important part to provide foreign businesses with a realistic look at local medical treatments./.
VIETNAM MEDI PHARM EXPO is organized by Vinexad – the forty-year company in the exhibition sector. The Organizer hopes that Vietnam Medi Pharm Expo will be more fruitful for businesses with expecting visitors of 15,000 arrivals through various media coverage.
TIME
Date: 17 – 19 Aug., 2017
From: 9.00 hours to 17 hours daily.
VENUE
Saigon Exhibition & Convention Center (SECC) – 799 Nguyen Van Linh Street, District 7, Ho Chi Minh City.
HOST
MINISTRY OF HEALTH OF VIETNAM
MINISTRY OF TRADE OF VIETNAM
THE ORGANIZERS
– VIETNAM NATIONAL TRADE FAIR & ADVERTISING COMPANY – VINEXAD
– VIETNAM MEDICAL EQUIPMENT ASSOCIATION
– VIMEDIMEX MEDI-PHARMA JSC
– NATIONAL INSTITUTE OF OPHTHALMOLOGY
VISITORS' ADMISSION
Professionals, trade and business visitors only
The organizer and show manager reserve the right to refuse admission or to remove any person without giving a reason.
This applies also to the setting-up and dismantling periods.
CONTACT

Organizer:

Vietnam National Trade Fair and Advertising Company – Vinexad

9 Dinh Le Str., Hanoi

Tel. +84-4-3825 5546, 3934 0474 Fax. +84-4-39363085

SERVICES
OFFICIAL CONTRACTOR:

Vietnam National Trade Fair and Advertising Company – Vinexad

9 Dinh Le, Hanoi, Vietnam

Tel: (84 4) 38255546

Fax: (84 4) 39363085

E-mail:

exh-vinexad@hn.vnn.vn

OFFICIAL FREIGHT FORWARDER:

Schenker Vietnam Co., Ltd

Hanoi Branch Office

5th Floor, TID Centre, 4 Lieu Giai Street, Ba Dinh District, Hanoi, Vietnam

Tel: +84 4 3232 1771

Fax: +84 4 3232 1772

Contact Person: Mr. David Linh – Fairs & Events Manager – Vietnam

Mobi:+84.903410309
---
© Riproduzione riservata