Established in 2013, KOGS 2017 incorporates an international exhibition of oil and gas hardware and services and a broad spectrum technical conference programme.
The 3 day exhibition is organised by UBM AEM. It serves all areas of the oil and gas industry; including petroleum geosciences, exploration & production and refining & petrochemical products and services.
The parallel 4 day multi-disciplinary conference programme focuses on science and engineering factors facing those working in Kuwait and the Divided Neutral Zone (shared with Saudi Arabia). The conference agenda is co-ordinated by the Society of Petroleum Engineers (SPE) in cooperation with a committee of senior NOC and IOC representatives, major operators and academia active in the region.
Together, the conference and exhibition combine to form the single biggest gathering of the oil and gas industry ever seen in Kuwait.
The world class exhibition of oil and gas products and services spanned 14,000 square metres of space at Kuwait International Fair and showcased 212 exhibiting companies from 19 countries.
Principal exhibitors included Kuwait Petroleum Corporation and subsidiaries, ADNOC, BAPCO, Saudi Aramco and EQUATE. Complementing these regional giants were a host of international powerhouses including Amec Foster Wheeler, Baker Hughes, BP, GE Oil & Gas, Halliburton, ONGC, Schlumberger, Shell, Total and Weatherford amongst others, who exhibited alongside independent specialist suppliers and distributors from Kuwait and across the world. The exhibition also featured large national groups from France, Egypt and Malaysia.
His Excellency Dr. Ali Saleh Al-Omair, Kuwait's Minister of Oil and Minister of State for the National Assembly performed the official exhibition ceremony on 12 October 2015, accompanied by an entourage of senior officials from Kuwait Petroleum Corporation and subsidiaries, government representatives, and oil and gas executives.
The parallel conference organised by the Society of Petroleum Engineers (SPE) delivered a pace-setting programme featuring 191 papers and e-posters from 27 countries, representing 60 companies. The packed agenda at KOGS 2015 also included 4 industry panel sessions and 5 special sessions.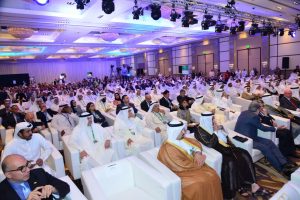 Opening Hours of the conference
Sunday 15 October 18:00 – 20:30
Monday 16 October 10:00 – 16:30
Tuesday 17 October 08:30 – 16:45
Wednesday 18 October 08:30 – 13:00
Opening Hours of the exhibitions
Sunday 15 October closed
Monday 16 October 09:00 – 17:00
Tuesday 17 October 09:00 – 17:00
Wednesday 18 October 09:00 – 15:00
---
© Riproduzione riservata